Giving thanks for local food champions and those who work tirelessly to nourish our families.
Each year, right about this time, the Palmer Land Conservancy team starts dreaming of holiday tables and traditions that are rooted in the local landscape. From the recipes that bring us together to traditions of getting outside to move and refresh, holidays in Colorado often reflect our connection to, and love of, the land.
Land for Food is a conservation priority for Palmer. We are committed to supporting rural communities and economies by working to protect local farms and ranches and connect people to local food.
To help bridge the gap between people and their local food sources, Palmer has championed various initiatives, such as conserving local farms, establishing an urban farm in the heart of Pueblo, producing a local food guide, and hosting the annual Bike the Bessemer event. It's important to us you hear the stories of how local food plays a crucial role in the health and well-being of our community.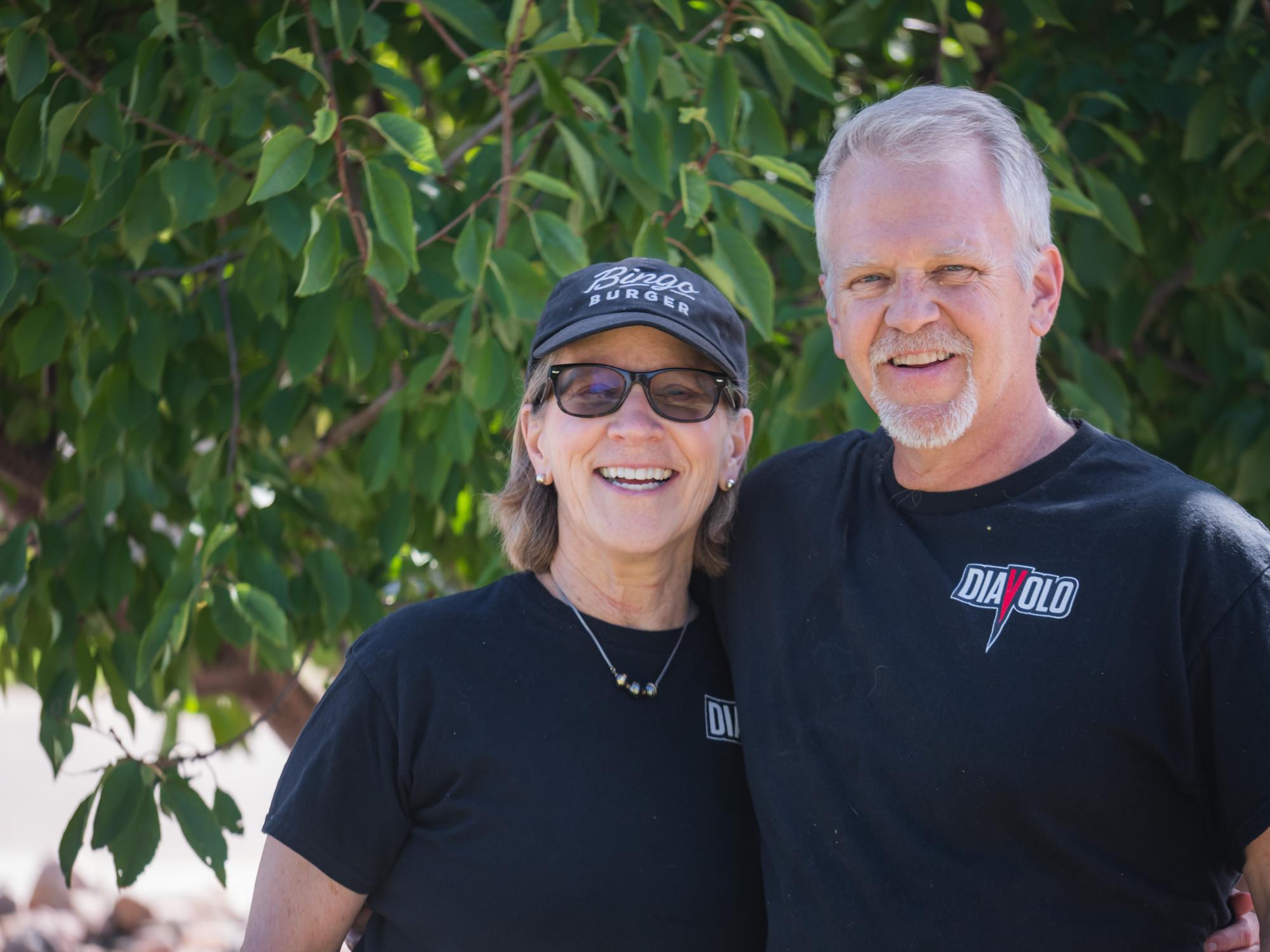 Allow us to introduce Mary Oreskovich and Richard Warner, chef-owners, devoted local food champions, and the culinary talents behind Palmer's annual Bike the Bessemer event. In a recent conversation, Mary and Richard shared how their deep-rooted passion for local food and the land has shaped their Pueblo eateries, Bingo Burger and Diavolo Hot Chicken. We are thrilled to share their story and hope it encourages you to explore local food producers in your area.
As a special gift from Mary and Richard to ignite your enthusiasm for local food, we invite you to savor their cherished family recipes.
Building Community Through Local Food
Mary Oreskovich and Richard Warner have been making great food featuring local ingredients for over 25 years. Mary, born and raised in Pueblo, and Richard, a Chicago transplant, are as passionate about local relationships as they are about the delicious meals they serve at their restaurants. Between their two restaurant concepts, they feature products from nearly twenty southern Colorado vendors from their preferred red Pueblo chiles, to Cañon City apples, and even the paper products they use in their kitchens. When asked why they are so committed to buying from and supporting local producers, Mary shared that buying local makes a difference to their local economy and generates reciprocal support for local businesses. She and Richard love seeing their delivery come in from Martino Ranch because they know they are getting great beef and they get to see their friend John while they serve him two fresh and hot Bingo Burgers. Mary and Richard know that local producers face many challenges in their work from water, to weather, to ever-increasing costs. But, they know (as do their loyal customers) that choosing to buy local is worth it because the quality, and community, are irreplaceable.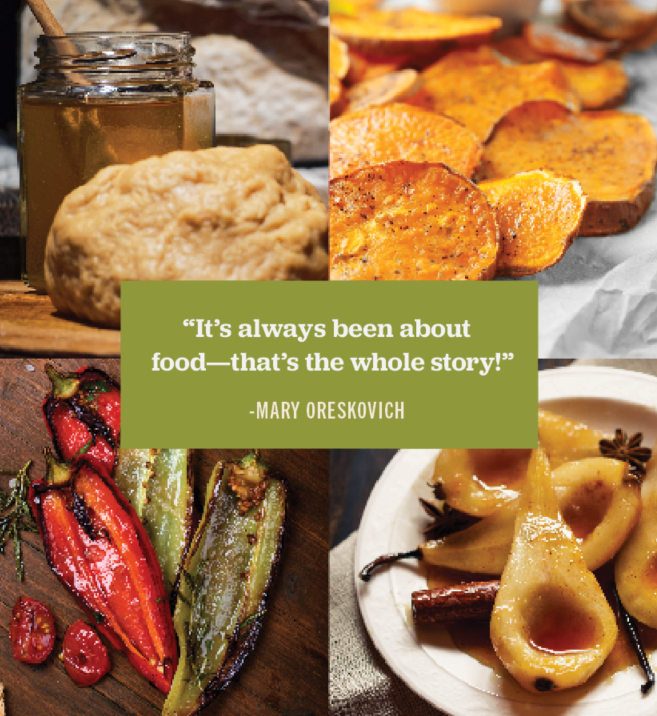 Sweet Potato & Fire-Roasted Pueblo Chile Gratin
From the kitchen of Richard Warner
Yield: 6 servings
Ingredients
3 Tbsp. butter, more for greasing the pan
2 large leeks, trimmed and halved lengthwise
1.5 lbs. Yukon Gold potatoes
1.5 lbs. peeled sweet potatoes
2 Tbsp. kosher salt
1 Tbsp. ground black pepper
2 thyme sprigs
1/2 cup chopped, fire-roasted Pueblo Chile's- preferably red, green will suffice
1 cup heavy cream
2 fat garlic cloves, finely chopped
2 bay leaf
1/2 tsp. freshly ground nutmeg
1 cup Gruyère, grated
Preparation
Heat oven to 350 degrees & butter a 2-quart gratin dish. Wash the leeks to remove any grit & slice thinly crosswise.
Using a mandoline or sharp knife, slice the potatoes into rounds, ⅛-inch thick. Toss with 1/2 of the salt and pepper.
Melt the butter in a large skillet over medium heat. Add leeks, remaining salt & pepper, and thyme. Cook, stirring, until leeks are tender, 5 to 7 minutes. Discard thyme. Alternate layering the potato rounds the leeks & chopped pueblo chile into the gratin dish.
Add cream, garlic, bay leaf & remaining salt & pepper to the skillet, scraping up browned bits of leeks from the bottom of the pan. Simmer gently for 5 minutes. Stir in nutmeg.
Pour the cream over the leeks, potatoes & chilies, top with the Gruyère. Cover with aluminum foil & transfer to the oven. Bake for 40 minutes, uncover and bake until the cheese is bubbling and golden, 15 to 20 minutes longer, until top browns. Let cool slightly before serving.
Mary's Old-Fashioned Gingerbread with Honey-Poached Pears
From the kitchen of Mary Oreskovich
Ingredients
Poached Pears:

4 cup white or red wine
1 cup water
1 cup honey
1 orange, quartered
1 lemon, quartered
2 cinnamon sticks
5 whole cloves
10 back peppercorns, crushed
1/2 vanilla bean, split
1/2 cup brown sugar
4 Anjou or Bartlett pears, ripe but firm, peeled, cored & cut in half
Gingerbread:

2 1/2 cups all-purpose flour
1/2 tsp. ground cinnamon
1/2 tsp. ground cloves
1/2 tsp. ground ginger
1/2 tsp. ground white pepper
1/2 tsp. ground cardamom
1/2 tsp. kosher salt
1 cup sugar
1 cup canola oil
1 cup molasses
2 x-large eggs
1 oz. freshly grated ginger & juice
2 tsp. baking soda
1/2 cup boiling water
1/2 cup hot coffee
Preparation
Poached Pears:

Place all ingredients in a pot & bring to a boil.
Reduce heat to a simmer & add prepared pears.
Place a piece of parchment over surface to prevent exposed surfaces from oxidizing.
Simmer very slowly, without boiling. Pears are ready when a paring knife enters flesh 'tenderly'.
Cool pears in poaching liquid until ready to serve.
Remove pears to separate container & strain poaching liquid into small saucepan & place over low heat. Reduce to a syrup & drizzle over gingerbread and pears.

Gingerbread:

Preheat oven to 350 degrees and butter & line a 9x13 baking pan with parchment paper.
Sift all-purpose flour, cinnamon, cloves, ginger, white pepper, cardamom, & salt ingredients together & set aside in a large mixing bowl.
In a separate mixing bowl whisk together sugar, canola oil, molasses, eggs, ginger until smooth & silky, set aside.
In a separate bowl, combine baking soda, boiling water, and hot coffee & set aside. The mixture will foam up!
Add egg/sugar mixture to dry ingredients & whisk together just until combined.
Add hot water/coffee/soda mixture & whisk again until combined.
Spread batter evenly into prepared pan & bake for 45-50 minutes or until toothpick comes out clean when inserted. The top of gingerbread will spring back when finished.
Cool on wire rack before inverting/cutting.
Land For Food
Strong communities, economies, and conservation
From the famed Pueblo chile, to sweet Rocky Ford melons, to local beef—the family farms and ranches throughout Colorado produce delicious and healthy food. Palmer's farm and ranchland protection work is a critical piece to ensuring our rural communities, economies, and food supply remain strong.
Join a passionate community of local food champions by making a gift today.
southern colorado's FIRST local food guide
Download Palmer's user-friendly, comprehensive guide to local producers throughout southern Colorado. From Salida to Rocky Ford, this guide is your one-stop shop to discover farmers, ranchers, and markets where you can shop directly for your favorite in-season produce and products. This unique guide is chock full of content, including maps, history, producer features, recipe spotlights, fun facts, and more. Download a copy here, or find out where you can pick up a printed copy here.