Bear Creek Regional Park
From its beginnings as a hunting ground and ranch in the early 1800s, to the community-led Poor Farm in the early 1900s, Bear Creek Regional Park has been an integral part of the community and region.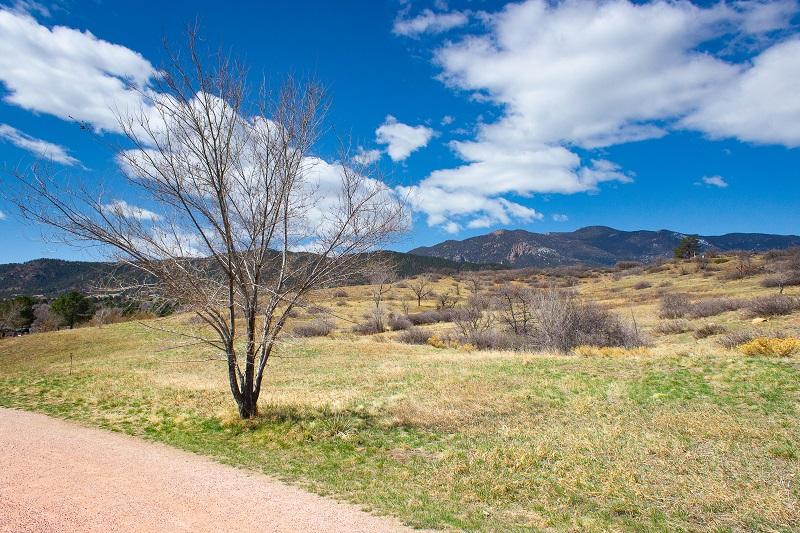 In the 1970s, residents and community members were able to make their voices heard when developers pressed the county to give up the land. When the Nature Center was lost in the 2001 fire, community support brought it back. In 2013, Palmer Land Conservancy was proud to play a small part in the community-led discussion of the park's future. Now the property is protected forever.
Bear Creek Regional Park is an extensive park with a number of amenities and opportunities for outdoor recreation. In the developed park area, you'll find picnic pavilions, playing fields, tennis courts, playgrounds, an archery range, horseshoe pits, volleyball and basketball courts, and one of the best dog parks in the state. The uppermost section includes the Bear Creek Nature Center as well as a network of walking and biking trails. From the parking lot at the park, connect to beginner / intermediate mountain bike trails for a day of exploring the total 545 acres.
Timeline
Originally, the ancestral hunting grounds of the Nuche (Ute).
1899: El Paso County purchased the Liebig Ranch for $18,000 which would eventually become Bear Creek Regional Park.
Late 1800s-1900s: El Paso County constructed a Poor Farm, a working farm that served as a place for unhoused people, sheltering community members facing mental illness and addiction.
1968: To prevent development, a portion of the original ranchland is set aside for open space by the county.
1972: Land is transferred to El Paso County Parks and Recreation for use as a park for all citizens.
1976: Solar Trails Center is constructed and opens its doors, and was renamed in 1979 to Bear Creek Nature Center.
1977: Palmer Land Conservancy is founded.
1984: The Poor Farm is demolished.
1986: Bear Creek Terrace is completed.
1996: Bear Creek Dog Park opens.
2001: Nature Center burns down (arson) and with public support is rebuilt in 2002.
2008/2009: The financial crisis reignites pressure to sell the park land.
2013: To ensure continued access to Bear Creek Regional Park, a conservation easement, held by Palmer Land Conservancy, is placed on Bear Creek Regional Park to protect it as open space forever.