Red Rock Canyon Open Space - An Ecological & Recreational Paradise
May 17, 2021
Back to blog feed
Red Rock Canyon Open Space
History of the Rocks
The towering sandstone formations of Red Rock Canyon Open Space have enthralled people since time immemorial. Artifacts from as early as the Archaic period (7,000 years before present time) have been found on the property, as well as some from Indigenous tribes who regarded the land as sacred.
Rock mined from the area can be found in the construction of such buildings as the Midland Railroad Roundhouse, Glen Eyrie Castle, and two of the Colorado College dorms.
In the late 1900s, commercial centers, high-rise towers, and even a golf course were planned for the area. Community outcry and advocacy resulted in the City of Colorado Springs purchasing the property and restoring ownership to the public. Thus, Red Rock Canyon Open Space was created, which is now a 1,474-acre playground for those seeking outdoor recreation experiences.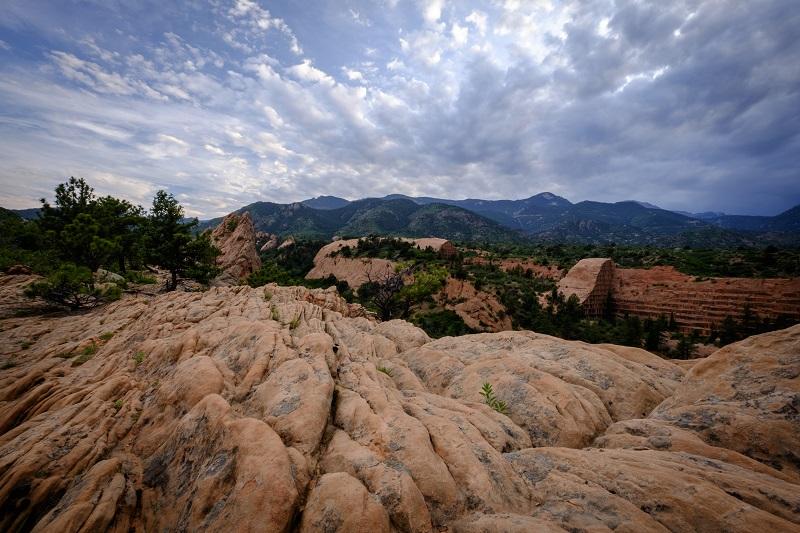 An Outdoor Recreation Paradise
With 40 miles of trail appropriate for hiking, biking, running, and equestrian access, Red Rock Canyon Open Space offers something for recreationists of all types. Open from dawn to dusk; the park provides off-leash dog loops, a free ride bike park, about 80 technical climbing routes (climbers should be registered through the Garden of the Gods visitor center), and even boasts cross-country skiing access when there is enough snow.

Geology: The Fountain Formation
If you spend enough time admiring the landscapes of the Front Range of Colorado, you'll start to notice a particular trend: stunning fins of red rock jutting from the foothills of the Rocky Mountains. These massive rocks are all part of the Fountain Formation, composed of bits and pieces of granite and gneiss, remnants of the Ancestral Rocky Mountains. It was named in 1894 for its proximity to Fountain Creek. You'll see the formation exposed in all its glory in the Flatirons (Boulder), Red Rocks Park (Morrison), Roxborough State Park (Denver), Garden of the Gods (Colorado Springs), and Red Rock Canyon Open Space (Colorado Springs). The continued preservation of these natural wonders is part of the critical work of conservation. Though these rocks are between 290 and 340 million years old, their preservation for generations to come is our privilege.

An Ecological Haven
In addition to the stunning rock formations that lend this park its name, Red Rock Canyon Open Space has a plethora of space for wildlife such as deer, black bears, mountain lions, and coyotes to roam. The small lakes offer riparian habitat for a variety of birds. The park boasts areas of shade-offering cottonwoods and aspen stands, coniferous trees like the ponderosa pine and Douglas fir, shrubland vegetation like Gambel oak, as well as grasslands full of yucca and prickly pear cactus.