Boozy Apple Turnovers
Makes 8 turnovers. This fall-forward recipe is perfect come apple harvest season. We highly recommend using a firm apple. Granny Smiths are the old classic, but if you can find anything in a Cortland, Jonagold, or Empires, those are even better. Remember to always refrigerate your apples to make them last longer.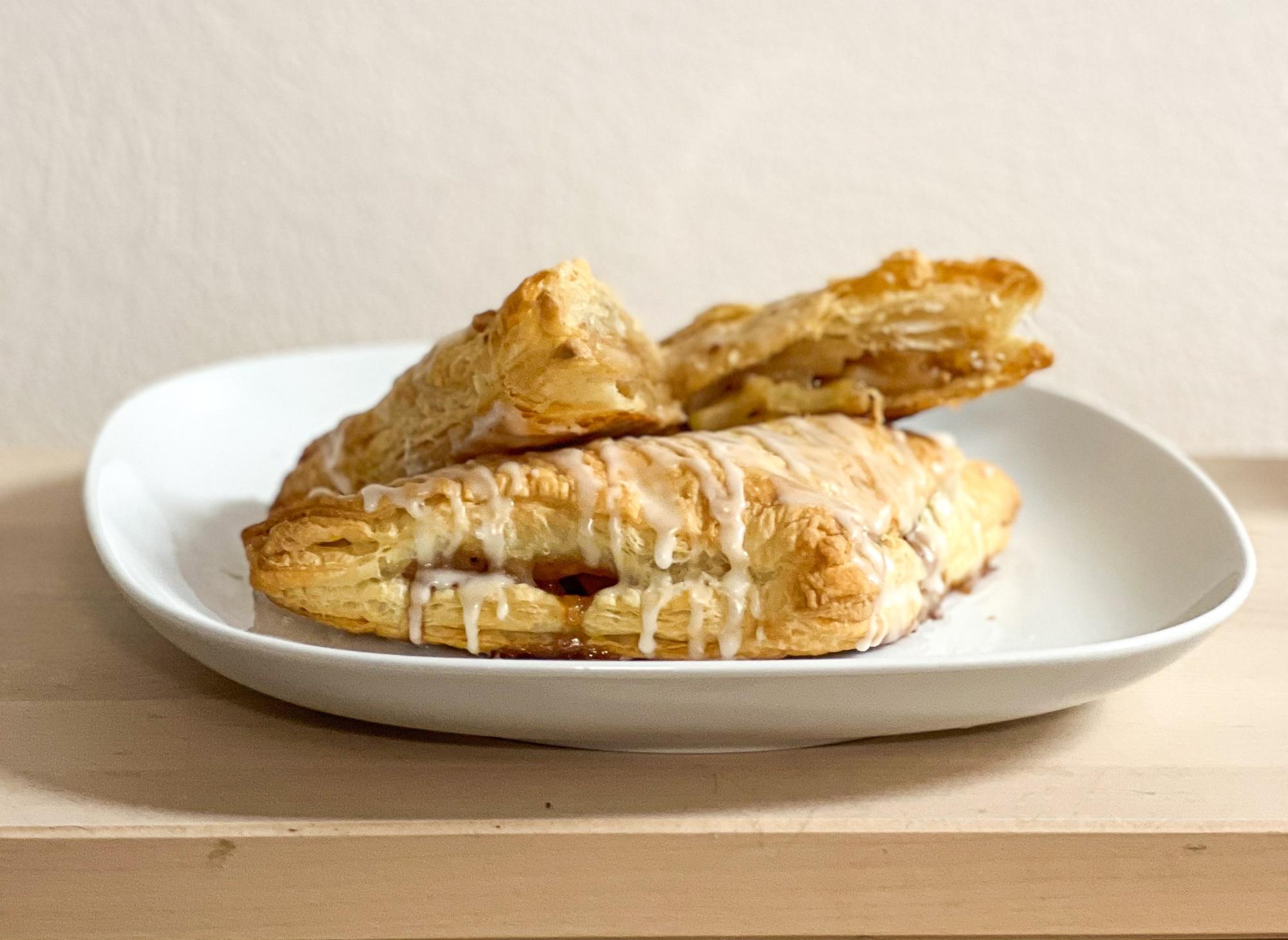 Ingredients
4 firm, tart apples - peeled, cored, and sliced into half-moons
2 tablespoons butter
¼ cup brown sugar
1 can of hard apple cider*
½ teaspoon cinnamon
1 tablespoon cornstarch
1 tablespoon water
1 (17.25 ounce) package of frozen puff pastry sheets, thawed
1 cup confectioners' sugar
½ teaspoon vanilla extract
Instructions
Preheat oven to 400.
Melt butter in a large skillet over medium heat. Add apples (see note) to skillet and cook, stirring occasionally for 2-3 minutes. Note: to keep your apples from browning as you peel and cut them, place your slices in a large bowl filled with cold water and the juice of one lemon. Drain well before adding your apples to the skillet.
Measure ½ cup of cider and add to skillet alongside the brown sugar and cinnamon and cook, stirring often, for 2 more minutes. You will need more of your cider for the icing.
In a small bowl, stir together cornstarch and 1 tablespoon of water to make a slurry. Add slurry to skillet, stirring well to incorporate. Cook for another minute or until thickened. Remove from heat and set aside to cool.
Unfold the two pastry sheets and use a rolling pin to lightly roll out the sheets to create two squares. Using a sharp knife, cut each larger square into four smaller ones.
Spoon the apple mixture onto the center of each square. Fold over one corner to the opposite to create a triangle shape. Press the edges together with a fork to seal well. Place on a parchment paper-covered baking sheet, leaving roughly one inch between them.
Bake for 25 minutes or until turnovers are puffed and lightly golden brown. Cool completely.
Make the icing: in a medium bowl, whisk together confectioners' sugar, 2 tablespoons of cider, and vanilla extract. You may need to add more cider to get the right consistency for drizzling.
Drizzle glaze over the cooled turnovers.
*We recommend a semi-sweet or dry hard cider. For a non-alcoholic version, you can substitute hard cider for regular cider.