5 Must-Try Outdoor Activities and Events in Southern Colorado this Fall
September 5, 2023
Back to blog feed
As the temperatures start to drop and the leaves transform into a kaleidoscope of vibrant colors, southern Colorado beckons outdoor enthusiasts to explore its breathtaking landscapes and engage in exciting fall events. From leaf-peeping adventures to immersive festivals, here is a list of outdoor activities and events to get the most out of this autumn in our enchanting region.
Autumn Along the Gold Belt Scenic Byway
Nestled in the heart of Southern Colorado, the Gold Belt Scenic Byway offers 360-degree views with groves of golden aspen scattered along the byway. This historic route takes you through a landscape adorned with brilliant hues of gold and amber as aspen trees line the road, especially the northern miles along the west flanks of Pikes Peak. The byway weaves through old mining towns like Cripple Creek and Victor, providing a unique blend of natural beauty and history. Stop at designated overlooks for panoramic views and photo opportunities that capture the essence of autumn in Colorado.
From the northern terminus of the byway, enjoy incredible views of meadows and dappled Aspen along the Pikes Peak Conservation Corridor.
Savor the Harvest Festivals
Fall wouldn't be complete without celebrating the bounty of the fall harvest, and Southern Colorado delivers in spades. For a quintessential Colorado experience, head to Pueblo for the annual Pueblo Chile & Frijoles Festival, where you can sample delicious chile peppers and browse through rows of vibrant pumpkins. This family-friendly event offers live music, a farmers' market, and plenty of activities for kids, making it a perfect day out for all ages. Don't forget to stop by the Palmer booth to Say hi and grab your copy of the Southern Colorado Local Food Guide.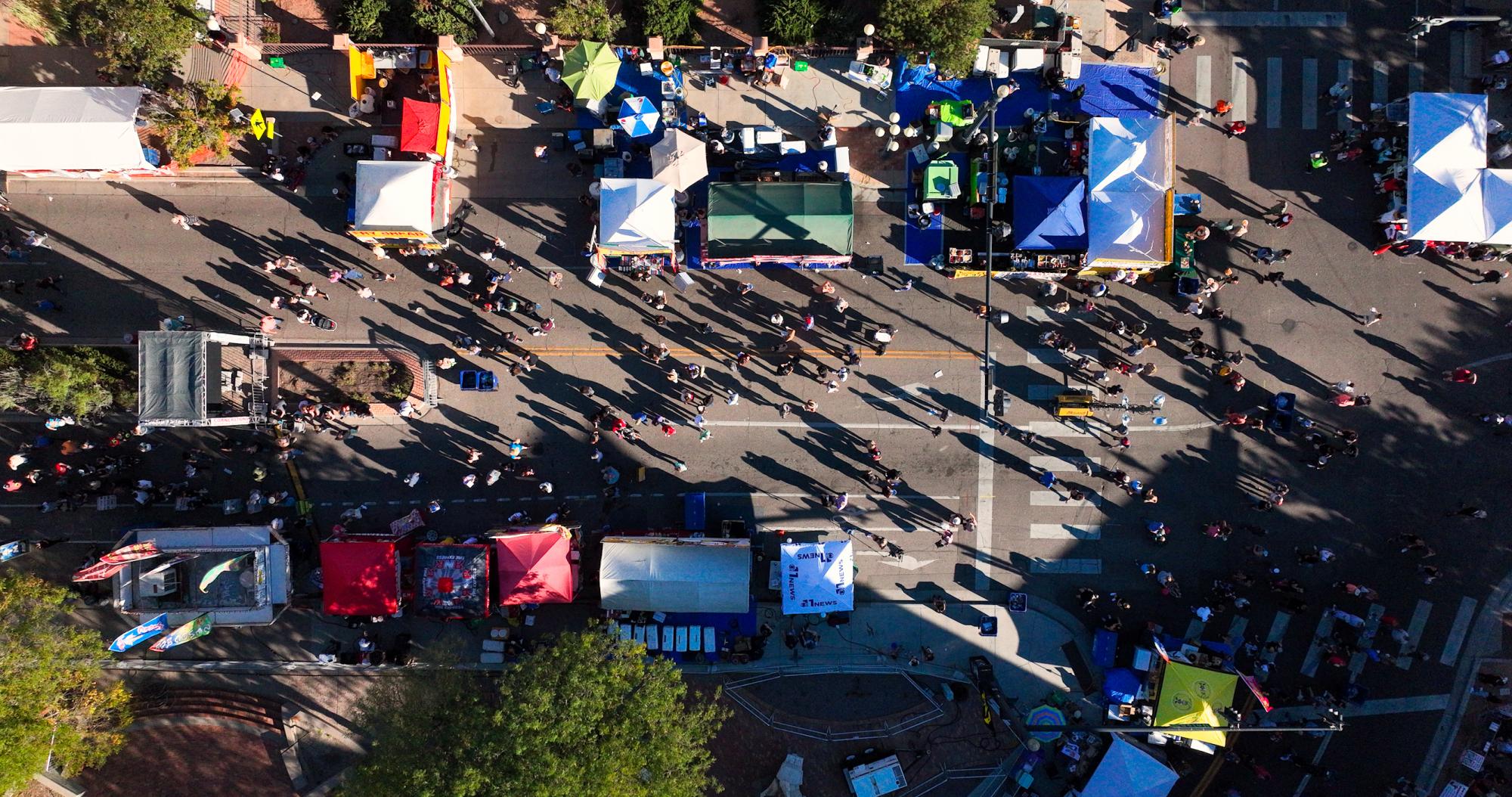 Explore the Paint Mines Interpretive Park
Located near Calhan, Colorado, the Paint Mines Interpretive Park, a Palmer-protected open space, is a hidden gem for fall exploration. This unique park features an otherworldly landscape of colorful clay hoodoos, spires, and canyons. In the fall, the contrast between the red, orange, and yellow clay formations and the blue Colorado sky is simply stunning. You can explore several miles of hiking trails that wind through the park, allowing you to immerse yourself in the fascinating geological wonders and the vibrant autumn scenery.
Boo at the Royal Gorge Bridge
Prepare for a spine-tingling adventure at the Royal Gorge Bridge during the Halloween season with Boo at the Bridge. This family-friendly Halloween event at one of Colorado's most iconic landmarks provides an unforgettable experience. Bring your little ghosts and goblins for an evening filled with festive activities, thrilling rides, and eerie entertainment, all while marveling at the Royal Gorge Bridge's dazzling lights, which illuminate the gorge and create a magical, otherworldly atmosphere.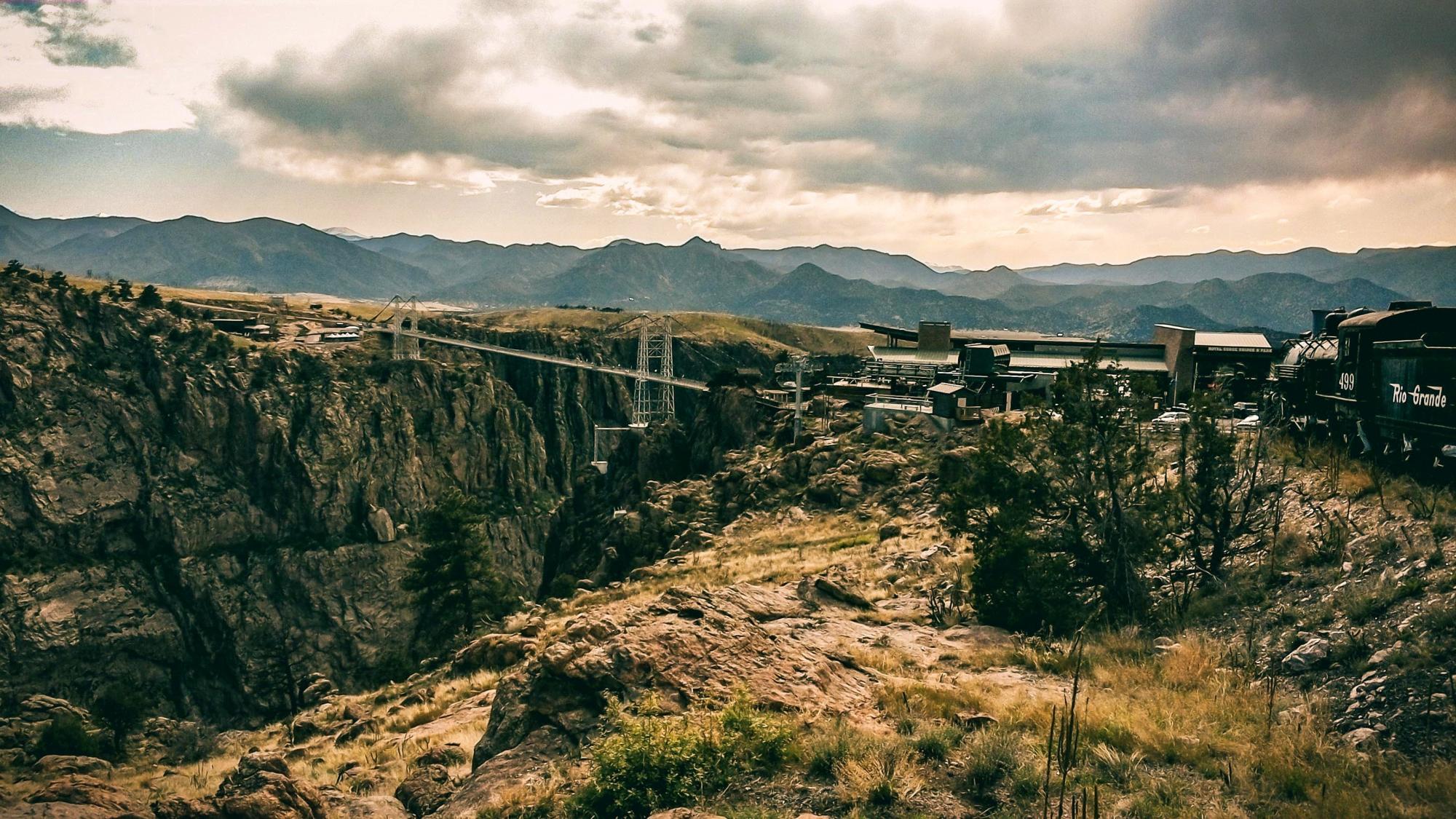 Rock Climbing in Shelf Road Recreation Area
For thrill-seekers and outdoor enthusiasts, late fall is an excellent time to explore the Shelf Road Recreation Area near Cañon City. Known for its world-class rock sport climbing routes, this area offers a unique experience against the backdrop of high desert in the fall. The crisp fall weather provides ideal climbing conditions, and the Pinon Pine and cliff bands make for a picturesque setting. Whether you're a seasoned climber or a beginner, there are routes suitable for various skill levels, making it an exciting and memorable way to experience Southern Colorado in the late fall.

Southern Colorado comes alive with color and excitement during the fall season. Whether you're a leaf-peeping enthusiast, a festival-goer, or an adventure seeker, there's something for everyone to enjoy in this stunning region. So, gear up, pack your camera, and get ready to create unforgettable memories amid the vibrant landscapes and exciting events of Southern Colorado's autumn wonderland. Don't miss out on these fantastic outdoor activities and events that celebrate the beauty of fall in this remarkable corner of the Rockies.