Celebrate World Conservation Day | July 28, 2023
At Palmer, ​​we are committed to protecting land and water for the well-being of nature and people. We do that through protecting public parks and open spaces, leading innovative water sharing and conservation projects, and working closely with farming communities to ensure healthy, local food.
World Conservation Day is on July 28, a global day to celebrate and raise awareness about conservation and its importance to our collective physical, mental, and spiritual health. Here are a few ways to support conservation and the natural beauty of southern Colorado in our community.
Trail and open space clean up
When Palmer protects a public park or open space, we are not only protecting it for today, but for future generations. On World Conservation Day, take the kids in your life out on the trails and teach them about how to take part in caring for nature and wildlife habitat. Grab your hiking boots, a recycled plastic bag and pick up trash on your favorite trail. There are multiple organizations in southern Colorado that host trail clean ups – like our friends at TOSC, UpaDowna, the City of Colorado Springs, or volunteer for the 10th Annual Creek Week Clean-Up during the week of September 30-October 8 hosted by Fountain Creek Watershed Flood Control and Greenway District.
---
Explore a new public park or open space
Celebrate World Conservation Day by getting out, experiencing, and appreciating a protected open space or public park in your area – from the smooth trails winding through the woods of Pineries Open Space to biking the Chutes at Stratton Open Space.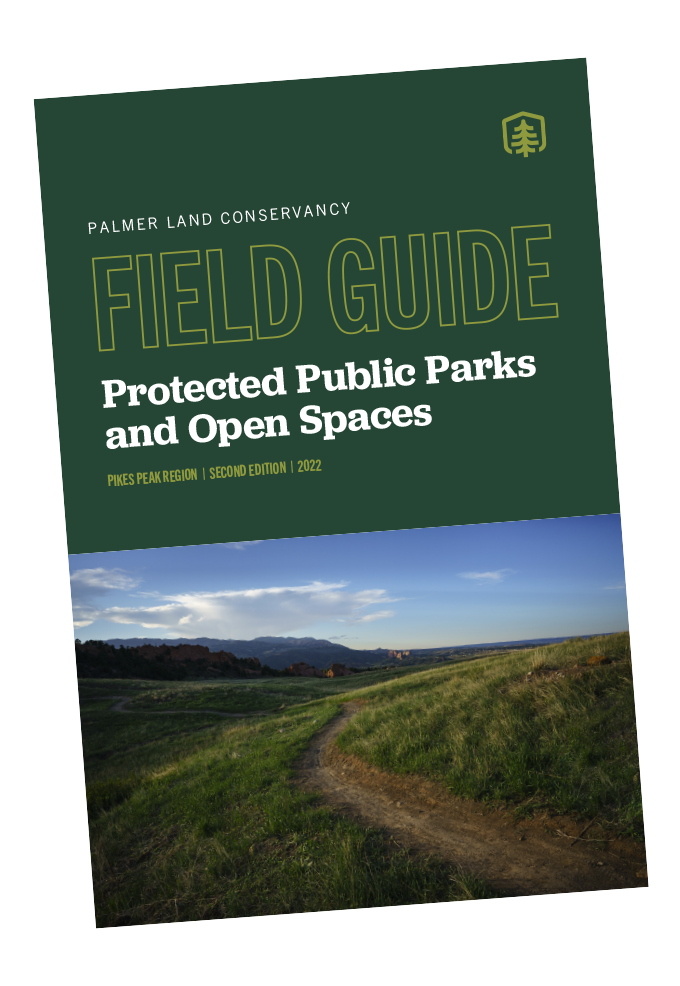 Explore & Discover
Discover one of the 20 Palmer-protected public parks and open spaces – get your copy of Palmer's Field Guide and start exploring.
---
Protect What You Love - Become a Land Lover – Join Palmer
When you become a Palmer Land Lover member you help protect the very places that you love by investing in Palmer's on-the-ground conservation work across southern Colorado and helping protect the natural beauty, iconic views, locally grown food, and unbeatable outdoor recreation – forever.