Palmer Trail is a lovely, pine-strewn singletrack trail that offers sweeping views of Colorado Springs and the eastern plains. From High Park Road, the trail climbs into the mountains and above the city where you can enjoy beautiful views. In the spring you'll find pasque flowers blooming, and in the summer a bevy of colorful wildflowers dot the hillsides. In any season, crossing Hunter Run creek is a welcome addition to the beauty of the environment, which features towering pine trees and imposing granite outcroppings. After 2.2 miles, Palmer Trail abuts the Section 16 trail and travels downhill.
Section 16 is an intermediate to advanced trail that will lead you down rocky portions, some of which will require careful riding and navigating. You'll see wonderful views of Red Rock Canyon Open Space and even as far as Garden of the Gods. Toward the bottom, Section 16 intersects with Intemann Trail, allowing hikers to extend their journey. Bikers and other trail users can continue downward into the Red Rock Canyon Open Space trail system to explore the network of trails there. For a roughly 5.5-mile loop, continue on Section 16 until it reaches High Drive, and take the road back to the parking lot. This loop provides over 1,200 feet of elevation gain.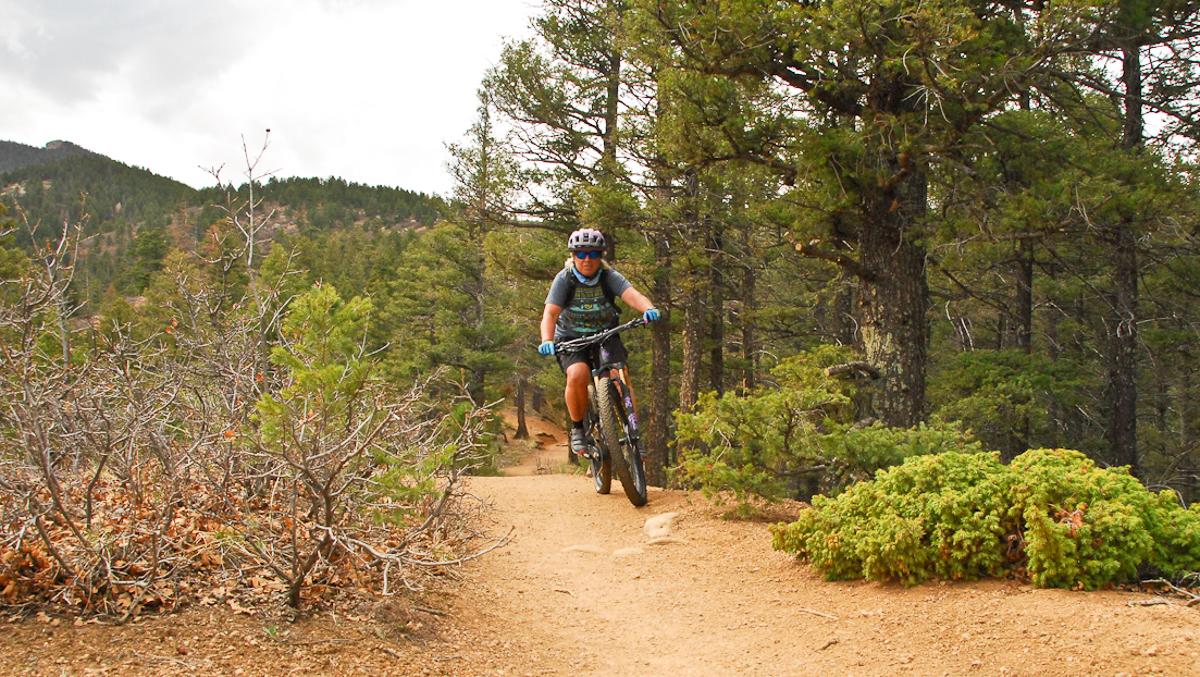 Clockwise or Counterclockwise?
Hikers often prefer this loop counterclockwise, starting with Section 16 and ending with Pamer Trail. Mountain bikers may prefer to do Section 16 downhill, which requires a clockwise direction of travel (starting with Palmer Trail).
Insider Tips!
This trailhead can be popular, so it is best explored early in the day or during weekdays. If you decide to head into Red Rock Canyon Open Space, be aware of many different kinds of trail users and pets. Be sure to observe social distancing protocol and all Leave No Trace principles. Thanks to the City of Colorado Springs, Section 16 was permanently protected for you by Palmer Land Trust in 2010. Learn more about the protection of this property here.
Directions
To reach the trailhead, turn onto 26th Street from Highway 24. Turn right onto Gold Camp Rd. The trailhead will be on your right, with additional parking up the road on the left.